Raymond Fischer who kept bees as a hobby and extracted honey in the family kitchen started the company. The business grew from the kitchen, to the basement, to the garage, to the first honey plant in the late 30's. We have since made four expansions to our plant and now have approximately 20000 sq. ft. devoted to warehousing, processing and bottling equipment. We are located only four blocks from I-30 and I-40, thus providing easy access for pickup. We are still a family owned and operated company and have been listed with Dun and Bradstreet since 1970.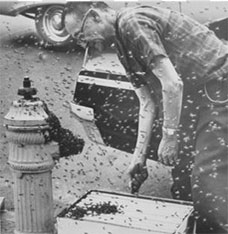 We contract honey from all parts of the United States to keep a constant flavor known to our customers. Our honey comes from producers who are reliable and knowledgeable of the honey sources and conditions relating to their area. Thus we are assured of excellent quality and dependable supply.
During the sugar shortage of World War II, we gained distribution through Little Rock warehouses to all of Arkansas and grew to the surrounding states, which helps us ensure safe and prompt delivery to our customers.
Because of our years of experience, our wide network of suppliers, and our attention to market trends, we are able to offer consistently competitive pricing. As your honey supplier we promise you quality honey and dependable service.